Congratulations to the Waldorf Astoria New York, New York Hilton Midtown, and The Carlton Hotel – they are the winners of the first ever Hotel Association of New York City's HANYC Sustainability awards.  Great Forest provided expert guidance, and worked with the HANYC to launch the awards.  Read more about the three hotels and why they won. 
[Related: Headless Pineapples, Paper Hats and More Small Ways Hotels Go Green]
The HANYC commissioned Brooklyn-based artist Etty Yaniv to create three beautiful works of art using recycled materials for the winning hotels.  Below, Yaniv shares her vision for the works:
Award for Environmental Protection, awarded to the New York Hilton Midtown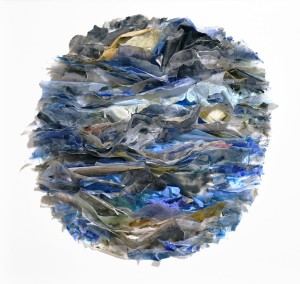 For this project, I began by integrating hundreds of paper pieces from my studio practice, including scraps of my drawings and ink marks. To highlight the Environmental element, I coalesced with the recycled paper fragments of ubiquitous plastic objects, such as disposable gloves and packaging bubble wraps. 
Award for Social Responsibility, awarded to the Carlton Hotel
Referring to the diversity and the dynamic nature of NYC communities, the image groups fragments of photos which depict peoples' faces taken from the internet. The multitude of faces is meant to form an image of a community and at the same time an abstracted urban scape, the community becomes the fabric of the landscape. 
Holistic Strategy for Sustainable Hospitality, awarded to the Waldorf Astoria
Aiming to visualize the good holistic approach towards the triple bottom line, I coalesced references to profit, environment and people. For example, fragments of financial charts evoke profit, aquatic colors and circular shape relate to earth, and hundreds of people's faces taken from the internet refer to the diversity of NYC communities. The multiple faces form a diverse crowd and are also meant to evoke an abstracted urban landscape at the same time.
Related: