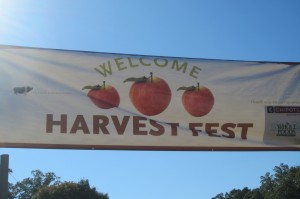 Large events often leave behind mountains of waste that few organizers know how to handle. The logistics of recycling and composting at festivals can seem insurmountable, but this year, Stone Barns is meeting the challenge, and we will be there to make sure they succeed.
Great Forest will be managing composting and recycling at Stone Barn's annual Harvest Fest, one of the most popular events of the season, which is expected to draw over 3,000 visitors to the farm in New York's Hudson Valley on Sunday, October 5, 2014.
While Stone Barns regularly composts and recycles on-site, this is the first year that they are attempting to do so at the event.
"Large festivals are complicated because the waste comes from many different sources, including vendors, and especially the public. So it is difficult to ensure clean streams," explains Anna Dengler, Director of Sustainability at Great Forest.
"That is where Great Forest comes in.  We will be there to install the program, oversee the process, engage visitors and make sure the program runs smoothly, so that Stone Barns' staff can focus on the main event."
"Live" Tracking
Great Forest will be tracking composting and recycling efforts "live" on a chart at the event's recycling and waste stations so festival-goers can see the amount of material being diverted from landfills throughout the festival.
Great Forest sustainability experts will be on hand to answer questions, so come join us at Harvest Fest. There will be "live music, hands-on farming activities, food-crafting, a farmer's market with delicious seasonal fare, hayrides, farm Olympics and more."
Related: Getting Festival-Goers to Recycle, With the Help of Sidewalk Chalk