This post is by James Bernard in Great Forest's San Francisco office.
Recently, I was reminded of the three Rs of waste diversion—Reduce, Reuse, Recycle—set to music by mellow musician Jack Johnson as a children's song.
Johnson's deceptively simple "3 R song," with the recurring line "we've got to learn to Reduce, Reuse Recycle" is a chant everyone should keep in mind, especially businesses, because it can be simple to do, and impactful.
Take, for example, our work with hotels in San Francisco.
Higher end hotels have a difficult time with that first R— "Reduce." Their guests want the best and the latest that hotels can offer.
In San Francisco, with its zero waste by 2020 imperative mandate, that third R – "Recycling" ( as well as composting) is mandatory.
But the middle R – "Reuse," is less explored and often forgotten.
Hotels continually renovate and remodel. Their furnishings and accessories are constantly being updated, and outdated amenities, china, glassware, linen, mattresses and other usable materials are consequently available for reuse. Instead, those materials often go into a debris box or a compactor, headed to the landfill.
But this does not have to be the case. Across the country, Great Forest has been reminding businesses about the often forgotten middle "R" by helping them donate their unwanted assets for reuse. The key is to get businesses to rethink the idea of "waste," and then to help them make the connection between donor and recipient. Even hard-to-place items can find new homes this way. For example:
Rethinking "Waste" At The Fairmont Hotel San Francisco 
Recently, The Fairmont began an upgrading project and together we began to think of reuse solutions.
On the recommendation of Recology (the company that processes municipal solid waste for San Francisco), The Fairmont, and members of the Hotel Council of San Francisco Sustainability Committee (of which Great Forest is a member), I reached out to Jo Licata, who has been the community project manager of the Hilton San Francisco Union Square since 1995.
Behind her impetus and leadership, the community outreach and reuse/recycling efforts became the San Francisco Hotel/Nonprofit Collaborative in 1996. Jo likes to talk about "going beyond the debris box" and describes the benefits of taking usable discards from the waste stream of hotels and sharing them with nonprofit organizations as win-win-win: Hotels Donate, Non-Profits Receive, Items Stay Out of the Landfill.
Tapping into Jo's network of donors and recipients as a starting place, Great Forest has been able to broker and be the glue in a number of donations by The Fairmont.
Rummage Sales For A Cause
In May, William Fong, The Fairmont's manager, initiated the terrific concept of having a rummage sale open to employees selling working, reusable items at reasonable prices with the proceeds donated to charitable causes.
Great Forest was asked to help the hotel take care of the items left over from the sale. This included lighting, utensils, glassware, irons, stainless steel water and coffee pitchers, clothing, and six large laundry bins of bathrobes, bath mats, and towels.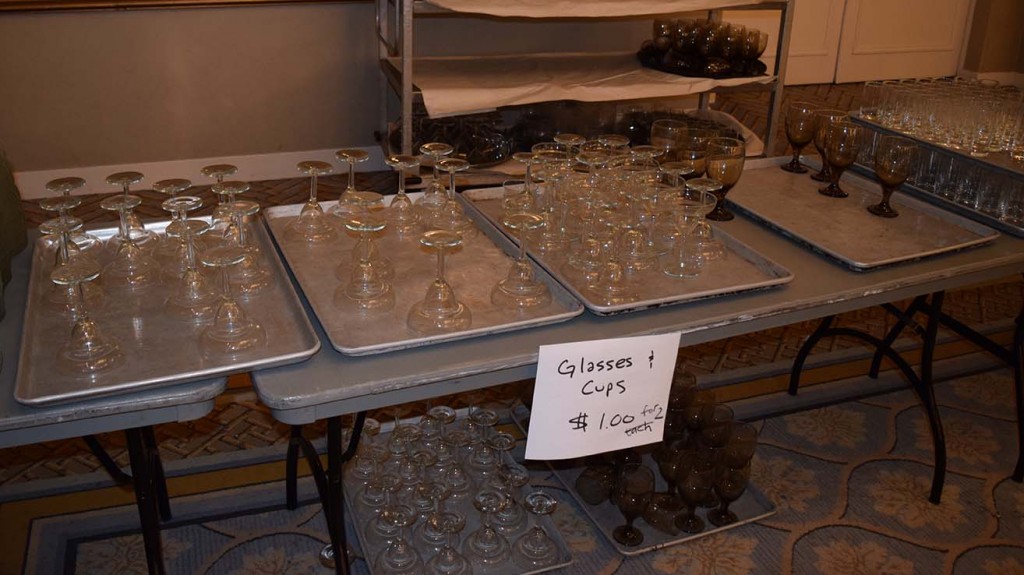 Having been pointed to the Salvation Army by Jo as the logical recipient of this amount and mix of material, we coordinated the pickup arrangements and worked with the nonprofit to get the truck-load of items to them.
"We value Great Forest's partnership with us to arrange donations as an essential to our waste management efforts even though they are not credited by Recology," said William. "Donation of reusable materials is part of our long-term commitment to our community at The Fairmont."
The Fairmont held another rummage sale in September with proceeds of over $3,000 benefitting the Bayview YMCA. Once again, we worked with the Salvation Army to pick up the remaining items from the sale, which included chairs, mirrors, Christmas ornaments, trays, glassware, vases, china, and linens.
Crafty, Creative Reuse 
In July, when the banquet department at The Fairmont needed to empty a storage closet, we had to move quickly to find homes for 75 high-quality wooden boxes that had to be cleared out.
Most of the boxes, which were used as displays for food presentation at banquets,  went to SCRAP, a nonprofit creative reuse center, materials depot, and workshop space founded in 1976 to provide art supplies to art teachers in the San Francisco Public School system.  SCRAP takes donations of reusable materials and makes them available to teachers, parents, artists, and organizations. The wooden boxes are now being used as containers for art supplies and other projects.
"Great Forest is a natural partner in what I see as a shared mission. They help us succeed in reducing waste and providing useful materials to teachers and artists," said Ben Delaney, SCRAP's Executive Director. "Thanks to Great Forest and the Hotel Council, we are on track to double the amount of material diverted to nearly 500 tons in 2016."
What To Do With 1000+ Hangers? 
Many guests of The Fairmont enjoy shopping in San Francisco and return to their rooms with hangers that are left behind. In San Francisco, wire hangers cannot be recycled as they jam up the three-story high conveyor belt system used by Recology to sort recyclables and must instead be returned to the laundries and dry cleaners they originally came from. Only pure plastic hangers can be recycled; composite hangers (wood and metal, plastic and metal) are categorized as trash and take up considerable space. Literally thousands of hangers can accumulate.
To solve this problem, Jo suggested we reach out to St. Anthony's Clothing Program, an organization providing essential support to people living in poverty. In August, we coordinated with Del Seymour,a local activist who works with the nonprofit, to pick up seven large boxes containing as many as 1000 hangers. Del has also agreed to come back for more as The Fairmont continues to divert hangers from the trash stream. From St, Anthony's, the hangers will be distributed to various nonprofits for reuse.
Ongoing Partnerships
The connections we helped The Fairmont make have developed into wonderful ongoing partnerships.
The hotel and the Salvation Army have agreed to a monthly collection of reusable materials, including some of the 400 mattresses that the Fairmont will be replacing over the next four months.  The nonprofit will accept mattresses that are unstained and not ripped for reuse in furnishing the Salvation Army's Harbor House Transitional Housing, a state-licensed chemical dependency program for single parent (mothers or fathers) homeless families seeking self-sufficiency.
Savings Realized
Hotel cost savings include reducing compactor and bin weights, scheduling fewer trash pickups or debris boxes, and tax write-offs. The Fairmont's various donations would have filled at least four 20-30-yard debris boxes.
The good feeling engendered by the donations and the employees facilitating them cannot be measured, but is palpable and doing good works is contagious and sustainable.
Lessons Learned
Jo Licata's mantra is "make the connection, make the commitment, make it convenient" where donations are concerned. Flowing from those three Cs are specific lessons we can all learn from:
Clear communication using pictures of what is available for donation, the location for pickup, and having contact persons on both sides of the arrangement are essential.

Doing what you say you are going to do carries a lot of weight on both sides of donation-recipient equation.

A goodness of fit between the donated materials and the potential reuser is helpful. Know the core business of the receiving organization.

Be aware of informal networking by hotel staff that can become formalized.

Be a patient go-between. Being the "glue" between donors and recipients can take time and as Jo says, "Yes, you have to recreate the wheel every day."

Senior management support and buy-in is essential. What has taken place at The Fairmont would not have been possible without William Fong's leadership and determination.
Above all, we should all remember what Jack Johnson says….
Read other Donation Assistance stories: