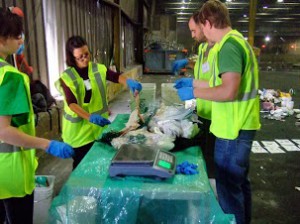 This month, Great Forest participated in a waste audit of ten restaurants that are part of NYC's Food Waste Challenge to collect data that will give the city a better idea of how the program is making a difference as part of PlaNYC 2030.
Great Forest has been advising the NYC Mayor's Office of Long Term Planning and Sustainability on the development and implementation of the ambitious citywide challenge, which launched earlier this year. Over 100 restaurants had signed on to reduce the amount of food waste going into landfills using strategies like composting and recycling. Now that the challenge is about six months old, it is time evaluate the program.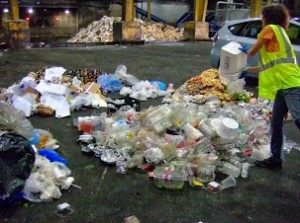 Great Forest sustainability experts, along with volunteers and representatives from other advisory groups spent four hours looking through bags of waste, recycling and composting generated by the restaurants.
They analyzed weights and volumes generated, and noted if the streams were properly separated. The information gathered by Great Forest will provide insights on how to refine the program if necessary, and how to increase recycling and composting at the establishments audited.
Great Forest will assist with a similar audit of supermarkets for the city later this year.
Food waste comprises one-third of daily refuse in NYC and restaurants account for 70% of commercial food waste.