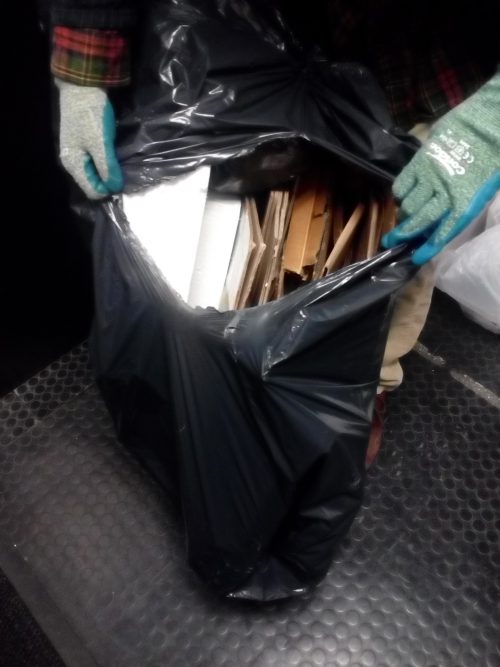 Client:  
A global consumer products brand.
Summary:
Great Forest's comprehensive waste audits identified a breakdown in the way the client's waste and recycling program was operating, uncovering a sizable revenue stream and potential savings of up to 33% of the client's annual waste hauling costs.
---
Problem:
The client, a global consumer products brand, wanted to divert as much material from the landfill as possible at two buildings on their campus. They wanted to determine if their efforts were working, and if their existing waste and recycling program was functioning properly and at optimum capacity, with minimum waste.
Solution:
A review of the client's program was planned.  Over a  24-hour period, Great Forest teams conducted comprehensive waste audits at the two client buildings, investigating the contents of every bag of waste and recycling. The team carefully tracked the volumes of all material generated, detailing the material makeup for all the different waste streams, and logging where these materials were disposed of–in the waste or recycling stream.
The data was then analyzed by Great Forest to pinpoint the breakdown in the system, and evaluate the scale of the failure. Great Forest also conducted industry research to determine the market value of the commodities not being captured and the value that the client was currently not realizing.
Result:
Great Forest waste audits confirmed our suspicion that separation was not being done properly, and that a high proportion of recyclables were being incorrectly disposed of as trash. In particular, the audit discovered that the client's program was not capturing  cardboard and plastic wrap for baling. It also revealed the large scope of the waste.
Employees did not seem to understand how to recycle properly and as a result, the waste and recycling program was not working efficiently. Great Forest determined that by improving and expanding recycling education programs targeted at employees, the client would be able to raise awareness of how their programs work and alert staff to the importance of recycling.  This would lead to, and encourage, proper usage of the client's waste and recycling program, which would then be optimized to divert as much recycling as possible from the landfill.
Revenues would rise by greatly increasing the amount of baled cardboard and plastic that could be captured and sold. At the same time, reducing the amount of waste in the trash stream would lower the client's waste disposal fees.
Great Forest calculated that the client could realize savings of as much as 33% of the annual hauling costs at one building, and 15% of the annual hauling costs at the second building. Without conducting a waste audit, the client's program could have continued to be underutilized, resulting in needless waste and years of lost savings.
Learn more: